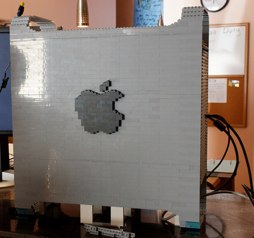 You are looking at 2,588 lego bricks that make up one the of the most perfect lego designs EVER!
Gizmodo had a contest to come up with a new case for a mac that has to be made out of lego bricks.  And here we have the winner.  The "designer" used the lego Digital Designer 2.0  to build this for the MacMod Challenge.
The mac features two computers.  One is a core 2 Quad Q6600 2.4Ghz and a Mac Mini Core Duo 1.66Ghz.
What is a little diappointing is that when you click through, you'll see some more images of the case and setup.  On the exterior Apple logo hangs a little Lego Steve Jobs.  The sad part is that Steve is not included! :(  Click the image or here to read more about the lego case mod.
Why do I loves this so much????  It combinds two of my favorite things in the world.. Apple and Lego's!!!  Now how can we fit Sex and Renee into this picture?!?!?