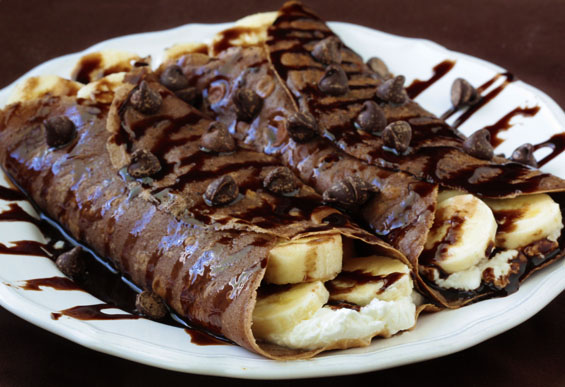 Ingredients:
1 cup all-purpose flour
3 Tbsp. unsweetened dutch cocoa powder
1 Tbsp. powdered sugar (or I used 2 Tbsp.)
1 1/2 cups (I used 1% milk)
2 large egg whites
1 whole egg
1 tsp. oil
3 bananas, sliced
whipped cream
chocolate syrup, for drizzling
chocolate chips, for sprinkling (optional)
Directions:
In a large bowl, whisk together flour, milk, cocoa powder, powdered sugar, eggs and oil until smooth.  (You can also do this with an electric mixer.)
Heat a large nonstick pan on medium-low heat, and grease with cooking spray. Pour 1/4 cup crepe mixture into pan, immediately the pan so that the batter spreads out thin into a large circle. Cook for 1 to 2 minutes or until bottom of crepe is light golden brown. Flip; cook 30 seconds to 1 minute or until light golden brown. Repeat with remaining cooking spray and crepe mixture.
To serve, spoon whipped cream into center of each crepe. Top with sliced bananas and fold each edge of crepe over filling. Drizzle with chocolate syrup and any additional toppings.  Serve warm.