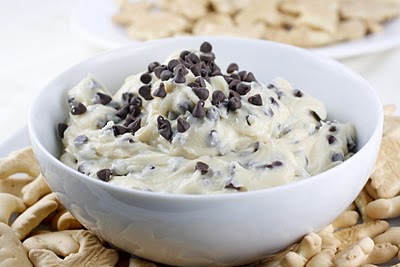 Ingredients:
1/2 cup butter
1/3 cup brown sugar
1 8-ounce block of cream cheese, softened
3/4 to 1 cup powdered sugar (*to taste)
1 teaspoon vanilla extract
3/4 cup mini chocolate chips, plus extra for sprinkling
Directions:
In a small saucepan, melt the butter over medium heat. Whisk in the brown sugar until it dissolves and the mixture starts to bubble. Stir in vanilla and set aside to cool.
In a separate bowl, cream the cream cheese and powdered sugar together for 60 seconds. With the mixer on low speed, add in brown sugar and butter mixture. Mix until combined. Stir in the mini chocolate chips.
Garnish with additional mini chocolate chips. Serve with animal cracker, nilla wafers or graham crackers.