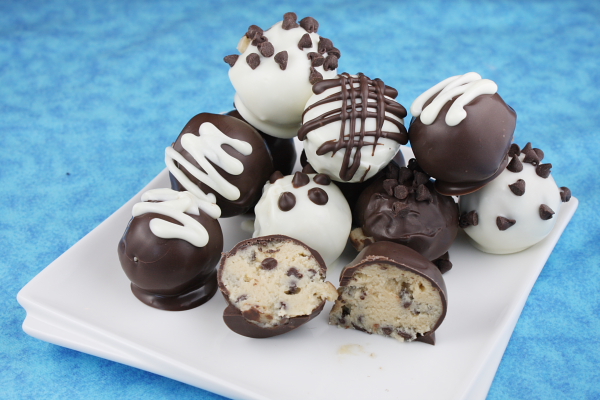 Yield: 3 to 4 dozen truffles
Prep Time: 45 min + chilling time
Best served cold, these treats are for cookie-dough lovers.
Ingredients:
1/2 cup butter
3/4 cup light brown sugar, packed
1 teaspoon vanilla extract
2 cups all-purpose flour
1 (14 ounce) can sweetened condensed milk
1 cup miniature semi-sweet chocolate chips
chocolate bark, to melt for dipping
additional chocolate chips, sprinkles, etc., optional for topping the truffles
Directions:
1. In a large bowl, use electric mixer to cream together butter and brown sugar. Add vanilla. Beat in flour, 1 cup at a time, until it is incorporated and you no longer see chunks of brown sugar (if you spot any, just squish them). Beat in sweetened condensed milk and mix until well-combined. Stir in 1 cup of chocolate chips.
2. Cover bowl and refrigerate until dough is firm (at least 1 hour- maybe more… you want the dough to be quite firm). Use a small cookie scoop to scoop out heaping Tablespoonfuls, roll into balls and place on a waxed paper-lined cookie sheet. Place all of the rolled balls back into the refrigerator until you are ready to dip them in chocolate.
3. Melt chocolate bark in a glass bowl- easiest to do in the microwave in 30 second bursts, stirring after each heating time, until smooth. Use a spoon to help you dip the chilled dough ball into the chocolate and roll it around to cover all sides. Place it on a waxed paper-lined platter. Sprinkle with any desired toppings. Repeat with the rest of the dough balls. They'll begin to set pretty quickly. Keep them refrigerated until ready to serve.
Tips:
*I used the Ghirardelli Candy Making Dipping Bar- both Double Chocolate and White flavors. It's available at Sam's Club- they may have it at Costco too.
*You may wish to speed up the chilling process and place the balls into the freezer, but it's not such a good idea. The dough freezes up and then when it begins to warm up again- it expands and may cause the chocolate coating to crack.
*Have your own favorite cookie dough recipe? Leave out the eggs, add a little milk to compensate for any dryness in the dough, and try making truffles with your own recipe!