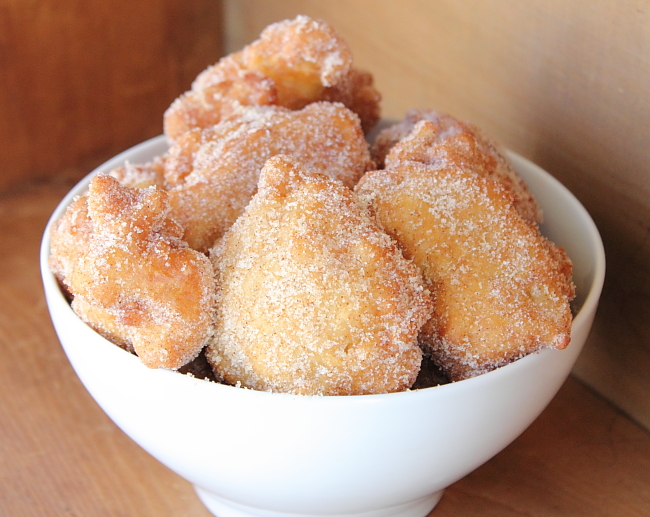 Yet another desert recipe. I must be hungry for desert or something!  I think the fact that we don't have any ice cream on hand plays a big role in to my posting tonight. Check out www.scarlettabakes.com for more tasty photos and how they came about. FINALLY, the recipe!
Chuckwagon Apple Fritters
2 c. self-rising flour
1/4 c. dark brown sugar, packed
1/2 tsp. salt
1 c. buttermilk
3 large eggs
5 apples (I opted for 2 Pacific Roses and 3 Braeburns – feel free to mix it up and go with any variety and combination that you prefer.)
1 tbsp. lemon juice, fresh
1 1/2 c. white sugar, granulated
1 tbsp. cinnamon, ground
1 tsp. ancho chile, ground
4 c. peanut oil (This is for frying. I prefer to fry with peanut oil, but you can go with any other light oil. Just be sure to adjust your heating temperature accordingly [see my tips for successful fritter frying below].)
Prepare the apples by peeling all 5, shredding 2 of the apples, and roughly chopping 3 of the apples. Again, you can do this in whatever combination you prefer, the idea with the shredding and chopping is to get a variety of textures going on in your fritters.
To prepare your fritter batter, place the flour, brown sugar and salt in a large bowl. Stir in the eggs, buttermilk and lemon juice, mixing just until you have a uniform batter. Fold in your apple pieces.
Meanwhile, heat your peanut oil in a large, heavy-bottomed pan. Following are a few tips for successful fritter frying:
Don't make your fritters too large. Fritters that are bigger than a tablespoon of batter won't cook through and are much more likely to burn as you fry them. Don't worry, the batter expands as you cook it. Stick with a tablespoon for scooping your fritters, and lightly grease it on both sides so that the batter slides right out into the hot oil.
Your oil can't be too hot when you begin frying or your fritters will burn instantly. Heat the oil over medium-high heat and don't be scared to test your oil's temperature with a few trial fritters. The fritters should take approximately 2 minutes to cook on each side – they will turn a deep golden brown as you fry them.
Flip your fritters regularly. Watch them closely. The color is key. Look for dark, golden-brown – no black.
Don't over-crowd your fry pan. Work in batches of 4-5 fritters at a time.
It may be necessary to skim away any small pieces of residue or little fritterettes in between batches. Keeping your oil clean by removing these bits will maintain its temperature.
Once your oil is at the appropriate temperature, use a greased tablespoon-sized scoop to drop the batter into the oil. Fry your fritters using the instructions that I included above. As soon as they have cooked, remove them to paper towels to drain and cool slightly.
Meanwhile, mix the white sugar, cinnamon and chile powder in a small bowl. As soon as the fritters are cool enough to handle, toss them in the chile sugar and serve.
YIELD:  approximately 25 fritters (For reference, my finished fritters were approximately 2-3″ around.)