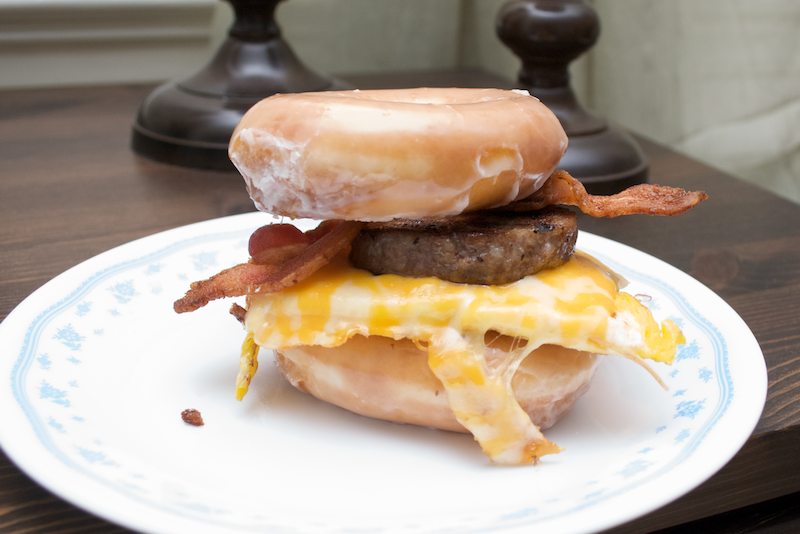 Last week, I found a CRAZY idea for a breakfast sandwich that got my taste buds in a roar.  I could not stop thinking about it all week.  I was just dying for the weekend to come to try it out.  Let me tell you, the wait and anticipation was WELL worth it!
I present to you, my version of the Bacon, Sausage, Egg and Cheese on doughnuts.  It took quite a bit of prep work to make this happen, but OH it was worth it.  Not only did we have to fry the bacon and the sausage, but I had to run to Krispy Kreme in the morning… IN THE SNOW to get a fresh, hot of the line dozen of glazed doughnuts. Which I believe made all the difference.
There was about 1 hour of prep time getting the sausage and bacon fried up, but like normal, we cook more then we need and freeze the rest for later consumption.  Then there was the frying of the egg and melting the cheese just right.  Before putting the egg and cheese onto the doughnut, I made sure to let it sit and cool for a minute or two so the heat from the egg didn't melt the glaze on the doughnut.  Why make it more messy then it needed to be right?
Overall, well worth the wait, prep time and trouble. All of the flavors combined together made one hell of a nice breakfast sandwich!  I highly recommend trying it once.