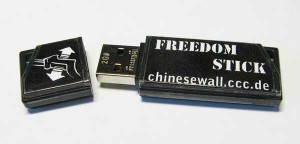 Again from the guys over at engadget, another neat gadget! This time it is the Freedom Stick. You can read engadgets article here.
With the summer Olympics going on over in china right now, anyone and everyone who tries to access some websites will have troubles due to the fact that china has a national firewall in place restricting access to those websites.  Don't ask me which ones, I have no idea!
So the Chaos Computer Club came up with the Freedom Stick.  Basically it is a jump drive with software and access to The Onion Router network or TOR.  The freedom stick is great for anonymous surfing and hides your identity.  While you can certainly download the TOR software over at the TOR project page, the Freedom Stick has it all right there for you and you can use it at internet cafes and so forth.
Another option you have is to setup a proxy server here in the states and access that server in china thus allowing you to go to any site you wich.  That is what the guy who bought my OLD G3 Blue tower Mac is using it for!