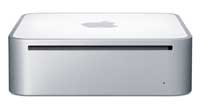 I forgot to mention yesterday…
As soon as I got home yesterday from selling my PB, I got a call on the cell from another person that wanted to buy my Mini!!  So, back out in the foul weather to deliver the mini to it's new loving home.
So, if we do the math now, Justin is down to one, YES, ONE Apple computer.  But this will change eventually as Renee and I do want a laptop for surfing.
And yes, I still own more then 4 iPods, but I am not getting into that!