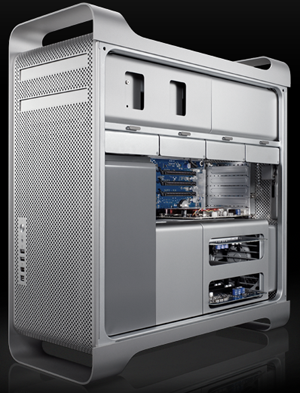 When I saw the article about the Cinema Displays getting a new design and POSSIBLY an iSight built into them, I was a little bum. Here I just spent some good money to get exactly what I wanted, then to hear that one of the pieces will get a new design nd feature. So yeah, just a little PO'd!
Then I came across this article over on MacUser.com. This really picked up my spirits! I had picked out the best options and system when it comes to the MacPro. I got the base model and will upgrade things over time and when money becomes available. Thinking back on it now, Steve, my personal shooper at the apple store, even suggested this to me when I was picking out the system!  He mentioned going over to macsales.com or OWC as they are called and get more ram, hard drives and DVD rom they as it is all MUCH cheaper!
So here I am, proud of my decision about the CPU, but a little bum about the display….  BUT I STILL LOVE IT!