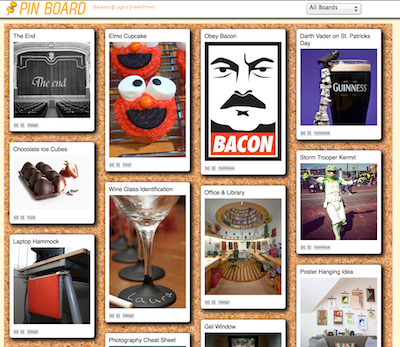 So you may have noticed that I have not written as much as I use to do… Which still was not a whole bunch here on my own blog.  A lot of what I posted was personal ideas, interest and recipes.  Not really what I want my personal blog to be about.  Things like that belong in what I use to call a morgue.  A collection of ideas and photos about different things I had in my mind.
I was turned on to Pintrest by my wife and was quickly turned off by how limited it was and how it relied on others to "socially" interact with it.  I don't care if people like or want to comment on my pintrest boards.  It's not for them, it is for me! So, away went pintrest and I began to build my own. It is still very basic at the moment. But, as free time comes around, it is something I update and work on.
So, you will notice I have started to add the morgue ideas over on my pin board.  I'll leave my personal blog for what it is suppose to be… A BLOG! ;)  Check out my pin board, don't expect to interact with it though. ;)
If you like it and think the same way I do about pintrest… I might be able to share my work and provide you with your own pin board. Just shoot me an email.