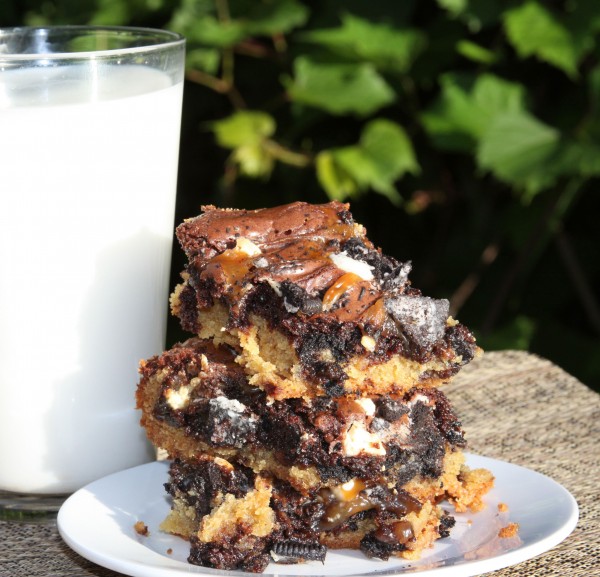 Ingredients
Cookie Ingredients
1 1/2 sticks butter (melted)
2 1/4 c. flour
1 tsp. baking soda
1/2 tsp salt
1 egg
1 egg yolk
1/2 c. sugar
1 c. brown sugar
2 tsp. vanilla
1 c. chocolate chips
Topping and center mix Ingredients
15 oreos
1/4 c. white chocolate chips
Bar Ingredients
1 box brownie caramel brownies
1/2 c. mini chocolate chips
Instructions
Cookie Instructions
Preheat oven to 350 degrees
Combine dry ingredients in medium bowl.
Melt butter and mix with sugars until smooth.
Add in eggs and vanilla.
Combine with dry ingredients until smooth.
Add chocolate chips.
Spread a 9 x 13 pan with cookie dough until completely covered.
Brownie Instructions
Prepare as directed; add mini chocolate chips
Bar Assembly Instructions
Crush 8 oreos and sprinkle over top of cookie dough spread.
Cover with brownie batter.
Squeeze packet of caramel over batter and swirl all over with a knife.
Sprinkle with remaining crushed oreos and white chocolate chips.
Bake for about 25 minutes, don't overcook as it will set and get firmer. Let cool and set before digging in (I know it's hard).