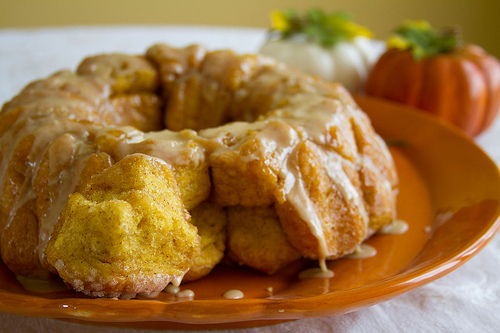 Ingredients
For the dough:
3 1/4 cups flour, plus extra for kneading
1/2 tsp salt
1/2 tsp cinnamon
1/4 tsp nutmeg
1/8 tsp cloves
2 Tbsp unsalted butter, melted
1/2 cup warm milk
1/4 cup warm water
2/3 cup pumpkin puree
1/4 cup sugar
2 1/4 tsp active dry yeast
For the coating:
1 cup sugar
2 tsp cinnamon
3/4 stick butter, melted
For the glaze:
2/3 cup powdered sugar
2 Tbsp pure maple syrup
1-2 tsp milk
Directions
In a large bowl, whisk together the flour, salt, and spices.
In another large bowl, whisk together the milk, water, pumpkin, melted butter, sugar, and yeast.
Make a well in the center of the flour mixture and add in the wet ingredients. Using a wooden spoon, gently stir until the dough comes together. Turn out on to a lightly floured surface and knead until smooth and elastic, about 6-8 minutes. Spray a clean bowl with cooking spray and place the dough inside.
Cover and let rise until doubled in size, about an hour.
In the meantime, mix together the cinnamon and sugar, and melt the butter for the coating. Spray a bundt pan with cooking spray. Once the dough has risen, shape the ball into a large rectangle. Using a sharp knife, cut the dough into roughly equal-sized pieces and roll each piece into a ball (I had about 40 pieces, but you may have more or less).
Dip each ball of dough into the melted butter and then the cinnamon-sugar mixture, layering them in the bundt pan as you go.
Once you've used all the dough, cover the bundt pan and let the dough rise again for another hour.
Preheat the oven to 350 degrees. Bake the bread until golden brown, 30-35 minutes. Let cool for 5-10 minutes before turning out on to a platter. To make the glaze, stir together the powdered sugar and maple syrup. Pour over the bread while it's still warm.