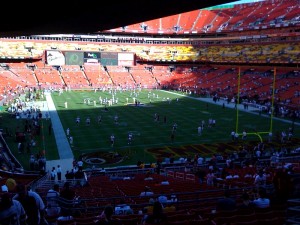 My brother gave me a call early last week about the skins first home game in pre-season.  He said that he had three tickets that he can't use and offered them to me as an early birthday present, so of course I took them!
They played the Buffalo Bills last night and of course I was giving Renee shit all night about how the Bills were going to lose…WHICH THEY DID! ;)
It was a lot of fun.  All kinds of expensive these days though.  A beer is running $8 a piece.  Then a buger alone is running $10. A larege coke, $6 and chiken tenders with fries is running $10.  Does this sound crazy or what?!?!?  If someone has season tickets and get some one beer and eats at the game every time, they are going to be broke by the last game… Then of course they have to pony up money for post season tickets and heaven forbit, super bowl tickets!
All and all, it was a lot of fun… THANKS SHORT FAMILY!