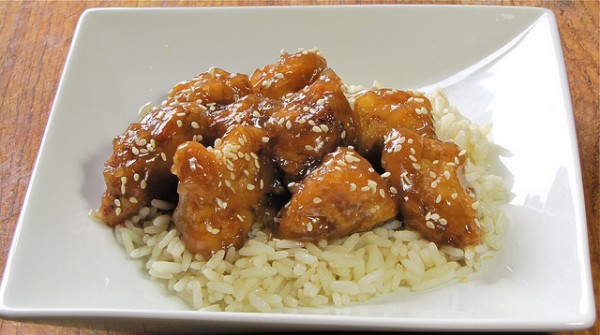 Ingredients
for chicken:
3 chicken breasts, cut into 1 to 1/2 chunks
1/2 cup milk
1 egg
1 1/2 cups flour
1 teaspoon salt
Vegetable Oil for frying
for sauce:
1/2 cup water
1 cup chicken broth
1/8 cup vinegar
1/4 cup cornstarch
1 cup sugar
2 tablespoons soy sauce
2 tablespoons toasted sesame oil
1/2 teaspoon granulated garlic
2 tablespoons sesame seeds, toasted
Cooking Directions
for chicken:
Place milk and egg in a shallow bowl and beat together. Place flour in a shallow dish, a pie plate works well, stir in salt. Dredge chicken pieces in flour, dip in egg and milk and back in flour. Heat oil (about 2 inches) in a deep skillet or Dutch oven to about 350 degrees. Fry chicken in batches until browned and chicken is cooked through. Remove to paper towel lined plate to drain.
for sauce:
In a medium sauce pan, add water, chicken broth, and vinegar. In a small bowl combine sugar and cornstarch together, stir into liquid. Add soy sauce, sesame oil and garlic. Cook over medium-high heat, stirring often, until it comes to a boil. Lower heat and cook just until thickened. You can pour the sauce over the chicken or dip each piece of chicken in the sauce.  Sprinkle with toasted sesame seeds and serve it all over rice.