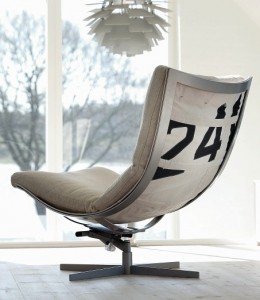 I love to sit and I love to sail. While I don't get to do much of the latter, this chain combines both!  The Spinnaker Chair from spinnaker.no.
the chair is made from used spinnaker sails, and most importantly, HEAVY CUSHIONS!  I love re-purposed materials and am always on the hunt for an interesting design for seating and office furniture.  I still want the pixel couch!  But how awesome would this be as a tv chair?  I don't think it will fit the design layout of our house, but I don't care!
I haven't been able to find a price or even a dealer in the US as this is a Norwegian company.  Hopefully someday they will make it across the big blue.