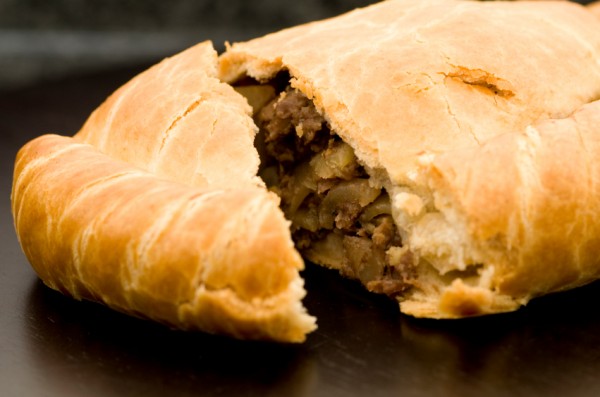 Original Pasty
Crust
3 c. flour
1 1/2 sticks butter (cold and cut into bits)
1 1/2 tsp. salt
6 tbsp. water
In a large bowl, combine flour, butter and salt.  Blend ingredients until well combined and add water, one tablespoon at a time to form a dough.  Toss mixture until it forms a ball.  Kneed dough lightly against a smooth surface with heel of the hand to distribute fat evenly.  Form into a ball, dust with flour, wrap in wax paper and chill for 30 minutes.
Filling
     1 lb. round steak, coarsely ground
     1 lb. boneless pork loin, coarsely ground
     5 carrots, chopped
     2 lg. onions, chopped
     2 potatoes, peeled and chopped
     1/2 c. rutabaga, chopped (can substitute turnip)
     2 tsp. salt
     1/2 tsp. pepper
Combine all ingredients in large bowl.  Divide the dough into 6 pieces, and roll one of the pieces into a 10-inch round on a lightly floured surface.  Put 1 1/2 cups of filling on half of the round.  Moisten the edges and fold the unfilled half over the filling to enclose it.  Pinch the edges together to seal them and crimp them decoratively with a fork.  Transfer pasty to lightly buttered baking sheet and cut several slits in the top.  Roll out and fill the remaining dough in the same manner.  Bake in a preheated 350 degree oven for 30 minutes. Put 1 tsp. butter through a slit in each pasty and continue baking for 30 minutes more.  Remove from oven, cover with a damp tea towel, cool for 15 minutes.
Milwaukee Journal March 28, 1943  Welsh